TOP FIVE REASONS TO PARTNER WITH AIRBLE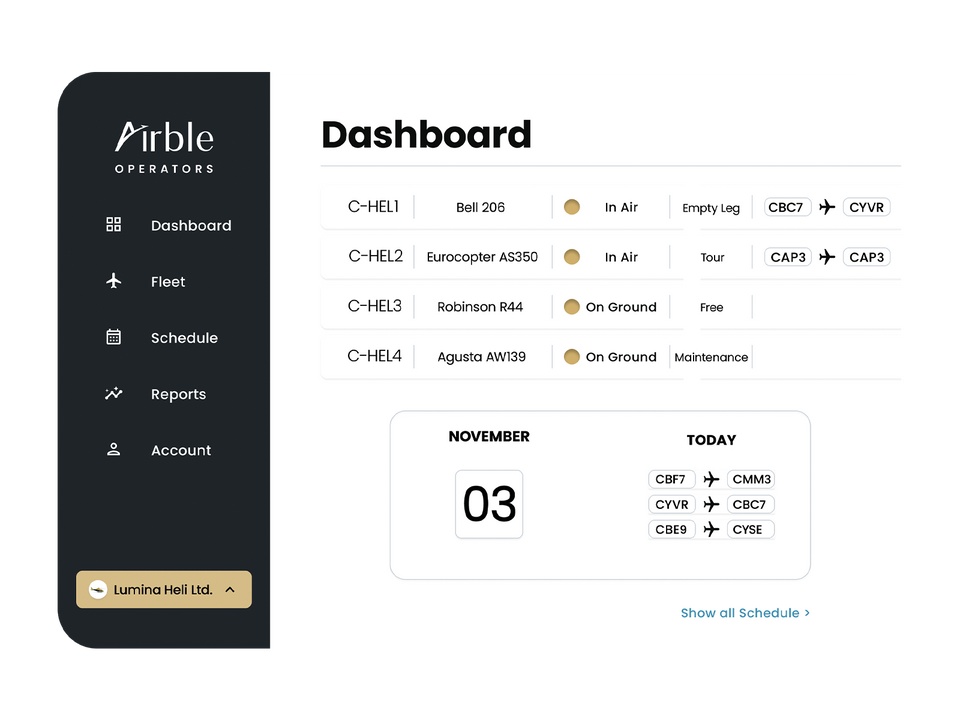 Airble is a fleet operation software that connects air operators directly to passengers by listing private flights and tours on the Airble marketplace for instant booking. We understand the frustration of logging flights and corresponding quotes back and forth, so we digitize and streamline the booking process in private aviation to be more efficient and accessible.
If you are an operator, here are five reasons why Airble is an exceptional partner:
1) Sell on-demand charter flights and tours
The Airble fleet operation software enables you to list on-demand charter flights, tours, and empty seats on the website and the mobile app to make the most out of your parked and unused aircraft. By setting parameters for your aircraft, Airble matches your availability to our marketplace in real-time so that our customers can book private charter flights/tours and pay in advance.
2) Sell empty legs
Whenever a flight is booked, whether through Airble or from your operation, our software automatically generates the empty legs and gives you the option to sell them on our marketplace at your disposal. Airble will help promote these empty legs as special deals to our customers through our marketing outreach. It's a win-win-win!
3) Integrate your current booking platform
If you are currently using a booking platform for your operation, Airble provides you with an API integration to avoid any double booking so that you can seamlessly serve both your loyal customers and the on-demand travellers from our marketplace.
4) Set your own prices and branding
As a marketplace, Airble enables you full control of your services such as pricing, branding, and copywriting. Our software allows you to customize your images and text descriptions so that you can easily maintain your brand and operations at your discretion.
5) Benefit from our marketing outreach and technology
Airble is targeting a variety of travellers, including those who are completely new to private aviation. With our marketing outreach across Canada and, moving forward, globally, Airble enables travellers to explore the private aviation industry and discover countless flight options beyond their dream vacations.
Another feature of the marketplace is that passengers can book shared flights/tours. When a customer who travels alone shares the charter prices with other passengers, it is more likely that you will be able to have full flights booked. Airble helps you capitalize on wasted empty seats.
Partner with us to grow your business
We make our sign-up form very simple and short if you intend to get in touch with us. Our representative will contact you shortly to schedule and show you a demo of our software. We shall answer any questions you may have to help with your business decisions and commitments.